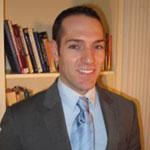 Michael Hickey, Ph.D. is Director of the Center for Psychological Evaluation and a licensed Staff Psychologist at the Albert Ellis Institute (AEI). A graduate of Western New England University, Dr. Hickey earned his B.A. in psychology and received the University's prestigious Alumni Association Award for graduating with the highest cumulative GPA in his class. He went on to earn his M.A. and Ph.D. in clinical and school psychology at Hofstra University and completed a pre-doctoral internship and fellowship at AEI.
Dr. Hickey is a certified supervisor for AEI and has trained numerous students and mental health professionals in the method and application of Rational Emotive & Cognitive Behavior Therapy (RE&CBT). He has also conducted several public and professional workshops at AEI on a variety of topics ranging from eating and body image issues to empirically supported cognitive-behavioral treatment techniques.
Dr. Hickey's doctoral dissertation examined the role of disgust in Body Dysmorphic Disorder (BDD), which was a pioneering area of BDD research. Additional clinical and research interests include the etiology and treatment of anxiety disorders, BDD, and other Obsessive-Compulsive Spectrum Disorders. He has published his work in scientific journals including the International Journal of Cognitive Therapy and has also presented his research at conventions of the American Psychological Association (APA) and the International Obsessive-Compulsive Disorder Foundation (IOCDF). Dr. Hickey has represented AEI in the media while providing expert advice on overcoming social anxiety on New York's PIX 11 Morning News.
In addition to his work at AEI, Dr. Hickey has conducted over 1500 intellectual evaluations of children for the Educational Records Bureau (ERB) and is currently appointed as an adjunct assistant professor at Hofstra University and Post University. He is a professional member of both the APA and the Association for Behavioral & Cognitive Therapies (ABCT), for which he serves on the association's Membership Committee. Back to list